Am I getting too repetitive if I say that today was another beautiful day in Starrucca, PA? We woke up to temps in the low 70's and we quickly hit the low 80's by late morning.   This afternoon was a blistering high of about 90 degrees with lots of sunshine. It's incredible what a temperature difference we have up here versus where you live, huh? I hear it's a lot hotter and it hit triple digits south of us here in the Pocono Mountains.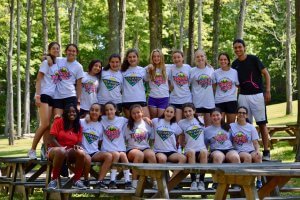 Today was another busy day with sports. We hosted the Wayne County volleyball tournament here at ILC for our older girls. They played fantastic games and guess what? They won the entire tournament! GO ISLAND LAKE VOLLEYBALL GIRLS! Here is a photo of the winning team. We are very proud of them.
In other sports our 8th grade and older kids played tennis this morning out of camp. Our 4th & 5th grade boys played soccer here at home this morning (before it got too hot out). Our 6th & 7th grade boys had a baseball game here at home in the early afternoon as well.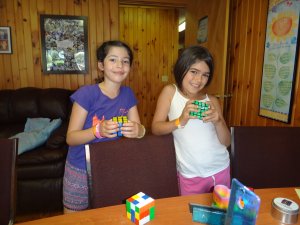 In my office today were 2 young campers, 1 returning and 1 brand new to ILC this summer. They have something they'd like to tell you:
"Island Lake is the best place for kids. I LOVE the people here and the bunk is really nice. WE LOVE ILC!!!" –Aubrey, 9 years old, returning camper (I know her mom is reading this so I hope I just made her day!)
"I love camp. This is my first summer. Everything here is awesome. The science program is great. Tennis is really fun although it's right in the sun." (She's a poet in her spare time!) –Imogen, 8 years old. Aren't our campers cute?
Tonight's evening activity is GROUPS. Here's a rundown of what everyone is doing. GIRLS: Groups 1&2- pool party; Group 3- bunk videos for a near future ILC Film Festival; Group 4- slip 'n slide water fight (with boys group 4). BOYS: Groups 1&2- kickball (& surprise water fight); Group 3- kong pong; Group 4- slip 'n slide water flight (with girls group 4).  Notice a theme here? Lots of water activities to keep the kids cool.
Today's special feature is SCIENCE & FISHING! Enjoy these photos and until tomorrow, ILCUTHERE!