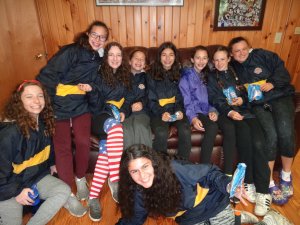 Good afternoon ILC families! Today has been the first day all summer that it rained continuously throughout the day. We have been very lucky up to this point and rain would only stick around for up to an hour or so (every other day! Ha!).   This is our first wash out of a day where activities had to be brought indoors for every major and minor. It's also been unseasonably cold with temps only hitting a high of around 60 degrees. I think in my next life I'll return as a weather woman!
Due to the rain, our Island Lake Open tennis finals will have to be postponed until tomorrow. Our Skatepark Competition successfully took place. The winners of our competition are:
Skateboarding:
Beginners: Liam M.:  Intermediate Girls: 3rd place- Hallie M., 2nd place- Abigail W., 1st place- Danica M.:  Intermediate Boys: 3rd place- Ryder M., 2nd place- Charlie R., 1st place- Jordan K. Advanced: 3rd place- Jonathan (Noni) A., 2nd place- Chase M., 1st place- Miko M.
Rollerblading:
Beginners: Sam B.:  Intermediate: 3rd place- Logan C., 2nd place- Ian F., 1st place- Jared B.:  Advanced: 3rd place- Michael P., 2nd place- Chase M., 1st place- Christian W.
I was asked to do the following for an avid Island Lake blog reader: A special shout out to Lyndsey's mom who's got it going on. She lives far away on the other side of the pond. She and this blog have a very special bond. Let's hear it for Lyndsey's mom!
I have a surprise guest bunk here today that would like to blog for all of you parents. Ladies and gentlemen, I give you GIRLS BUNK 21!!!!!
Yo yo yo what's poppin' Island Lake blog readers?!?! It's your girlz, G21, comin' at ya live from Starrucca, PA! Today's a rainy day in Starrucca, PA but we're happy anyway. Since this is our last summer together as campers, we'd like to tell you our favorite parts of camp.
"The 1st day of camp is my favorite because we get to see all of our friends again."– Charlotte D.
"Color War Sing because then we sing the alma maters and I hug everyone and realize how much I'm going to miss everyone,…and I cry." -Rachel B.
"Getting my 5-year jacket! Oh and Revival Night!" –Julia B.
"Steve Maxx so I can show off my Simon Sez mad skills." – Rebecca P.
"Brad Henderson because it's cool to watch our counselors getting hypnotized for real." – Sara B.
"I liked the teen trip because we got to do different and fun activities with our camp friends." – Ali G.
"Science with Ben Weber! And Council Fire!" – Sarah C.
"All of banquet day (last full day of camp) because like, I don't know, how do I say it, uuummmmmmmm, because we have the Color Run, the Rock Show, and we get to do it all with our, like, best friends." – Ryan P.
"I love making the bunk wishes at the waterfront after banquet and then watching the current year burn away while singing the camp alma mater." – Sami B.
"I like when our bunk is just together and we sit out on the grass during canteen and talk for hours." – Gabby G.
"This has been the best summer. It's my favorite so far. We'll never forget the last 5 years together. We love each other and our group chat is never gonna die. Friends Forever at ILC." – XOXO, G21
This group of girls is unusually special. They all get along so well, never have big bunk issues, and just truly love one another and love camp equally. It was a great time having them in my office with me today. Today's special feature is heartwarming. After G21 blogged, we all sang the camp alma mater together. The following is a video clip from this momentous event.  Please click "clip #13" to view it at the bottom of the blog.
Tonight's evening activity is the DANCE SHOW & MAGIC SHOW! Our dancers and magicians will perform their hearts out for all of their friends.
Until tomorrow, once we'll all know who the Bachelorette Rachel picks to marry (inside scoop- I already know!), ILCUTHERE!