Usually when you hear the phrase "kids today" it is followed by something negative. "Kids today can't pay attention" or "Kids today have no respect". Here at Island Lake we encourage our staff to find positive messages when speaking about the kids. Yesterday I had the opportunity to experience the positive message that camp can foster first hand while attending the Wayne County girls volleyball tournament.
We took our 9th graders and one 7th grader to the tournament, which hosted the top 12 camps in the area. There were approximately 150 girls there competing and it was a pleasure to be at the event. The kids were respectful to the host camp officials, to one another and to their coaches. There was not a cell phone in sight and no drama. Our girls interacted with players from other teams who they knew from home and made new friends in the process between matches. On the court the teams competed hard and never disrespected the other teams or officials. I was very proud of our girls and their coach Kiki, who joined us from the Netherlands this year and is doing an outstanding job here at volleyball and in the bunks where she works with our youngest campers. They were all great representative of our camp and of their families.
So I was reminded of why we work so hard to foster these types of environments at camp. To watch our kids support each other during successful moments and when they stumbled. There was only one 7th grader on the trip and the older girls showed her respect and encouragement the entire day. Camp gives us a chance daily to show our better side and our kids are great examples of positive behavior every day.
The next time someone says, "Kids today…" followed by a negative comment; I will have a better response. "Kids today are respectful, worldly, caring, focused.." The list could go on and on.
By the way, we won the championship yesterday. That wasn't the important part of the story.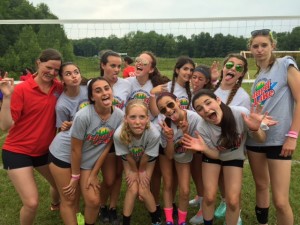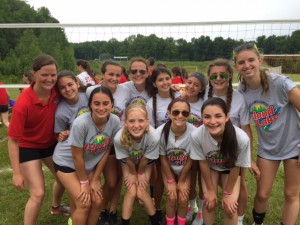 Video  (click "video" to see some excitement)