Today was our 2nd changeover day for ILC summer 2014.  Where has this summer gone?    We can't believe we are starting our 3rd session already!  This morning it was difficult to say goodbye to so many amazing campers.  We hope they all had a fantastic summer and now return home with wonderful memories to hold onto until next summer when we can all be back together here at camp once again.
In the meantime, summer continues as we enter into our 3rd and final session.  We are excited to get to know many of our new campers who are arriving with fresh haircuts, clean white sneakers, and exhilarating grins from ear to ear.  Our campers who stayed on from session 2 are pumped up to make new friends and see many from last summer.  We know the 3rd session will be just as incredible as our previous 2 sessions.
We are also busy preparing for our big 3rd session teen trip to Toronto and Niagara Falls.  About 90 campers and 10 staff will be heading to the good ol' country of Canada to spend 4 days and 3 nights checking out the sites, racing around in Jet boats, and enjoying the Maid of the Midst under and around Niagara Falls.  This is the highlight of the summer for many of our older campers so we're all revving to go.
The weather was beautiful today until about 5pm or so when the storms came through.  Nothing too bad but it's been raining on and off ever since.  Regardless of the weather, tonight's evening activity of "Make Your Own Sundae" (Aka "Make Your Own Mess") will still go on in the canteen this evening.
The following are some photos of the buses arriving today.  Enjoy and until tomorrow, ILC U THERE!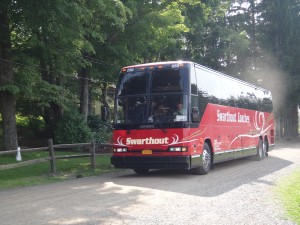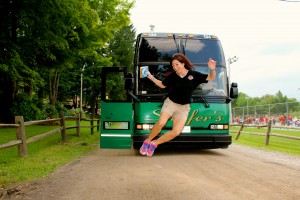 I couldn't resist tossing in this photo of me in the air!  Our camp photographers are great, huh?