Hi Island Lake families!  This morning we were not very lucky when rain hit us pretty hard at the start of our 1st major, bringing all of our outdoor activities inside.  Due to the rain, a golf trip was postponed to a later date.  Luckily, the skies cleared after lunch so most sports still took place (& some were indoors and unaffected by the rain).  Our 9th grade boys tennis played and won.  Good job guys!  We also hosted a 9th grade boys volleyball tournament and went to a flag football tournament.  We had several in-camp tournaments today, as well.  Our campers enjoyed a fencing tournament, archery tournament, basketball hot shot tournament, and a mountain biking race.
Last night's performance of "Guys and Dolls" was spectacular!  Our younger campers put on quite a show.  Eliot E, Alex L, Sam K., Brooke V, Ryan P, Emma P, Olivia K, Elyssa S, Maggie M, Hallie M, Mikayla R, Elaina P, Drew F, Zach W, Wesley F, and AJ C all did a magnificent job playing their character roles.  The show would not have been as entertaining without its additional chorus ensemble:  Sara A, Samantha S, Kamryn W, Lily S, Ariella B, Maddie W, Emily H, Bayla L, Taylor M, Ella G, Ryan D, Maclyn L, Allie H, and Autumn S.
Today's special feature is another guest bunk, BOYS BUNK 9!  These 7th grade boys came to my office to discuss their experiences here at Island Lake thus far.  Here's what they had to say:
"Cody is the best group leader!"- Tyler
"Camp is the BEST!"- Jack
"B9 has the best counselors!"- Kyler
"There are so many fun things to do here at camp!"- Alex
"Wendy has the coolest office!" (Sorry, I couldn't resist throwing that in when I heard it!)
"Bunk hang outs are awesome!"- Pierce
"Basketball is awesome!"- Bo
"Theater is awesome!"- A.J.
"Camping trip is the best!"- Julian
"Magic is cool!"- Devin
"Guys and Dolls is the best!"- Drew
Message from their counselors: "We have the best campers we could possibly wish for.  They're a joy to live with.  Clean and tidy (Lol!).  Wish they'd stay all summer."
Message from Cody, the group leader:  "My campers and counselors are AWESOME!"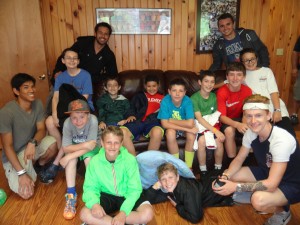 Tonight's evening activity is the Circus Show!  We're excited to see our acrobats, clowns, trapeze artists, highwire walkers, and more perform for all of us here at camp.  We'll fill you in on the details tomorrow.  Until then, ILC U THERE!