We cannot believe that today was the last full day of session 1 here at Island Lake.  These past 2 ½ weeks flew by way too fast.  It's going to be sad to say goodbye to many amazing campers tomorrow morning.  We hope they had the most amazing experiences here at ILC and we'd love to have them all return next summer for more exciting summer fun.  Parents of session 1 campers, you should have all received an email with changeover day information.  Please read it thoroughly to make sure you are properly prepared to pick up your children at the bus stops tomorrow.
Happy 80's Day!  Many of our campers and staff flashed back to the great 80's today (although most weren't even born by this decade,..lol!).  Below is a photo of our group leaders and girls head counselor.  Can you say, "Like, gag me with a spoon!"
In ILC news, last night was our 1st Circus Show of the summer.  The theme was space and the kids did a fantastic job.  We recorded it so parents, you can order a copy after the summer.  Today our campers performed Shakespeare in the Park during the 1st minor and many campers signed up to watch the performance.  Their reactions:  "It was hysterical!", " Boys dressed like girls!", and "I loved it!"  They performed outside on the grass next to our picnic area.  We're creating a new outdoor performing area and Shakespeare in the Park was the first to entertain in this space.
Tonight is our older camper production of "Joseph And His Amazing Technicolor Dreamcoat".  As a huge fan of this show and its music, I've attended several rehearsals.  I have to tell you, it's going to be an AMAZING show tonight!  We've got fantastic talent so I have no doubt they will entertain our campers and staff throughout the entire performance.  I'll give you details regarding who is in the show in tomorrow's blog.
Our campers rocked it out in our 1st session Rock Concert this afternoon after super clean-up (& packing for those who are going home tomorrow).  They continued with the 80's theme, bringing us classics from the decade we all remember oh so well.  Our campers did kickin' job of performing for their friends on a stage created just for them in the gym this afternoon.
In sports news, our 8th & 9th grade mixed doubles tennis team won an entire tournament (Go team tennis!).  Our 10th-11th grade mixed doubles tennis made it to the finals, as well.  Our 6th & 7th grade girls played lacrosse, 11th & 12th grade boys played soccer, and 7th grade and under boys played soccer.  Below is a photo of our winning tennis team from earlier today.  They, along with the 80's folks, are our special features of the day.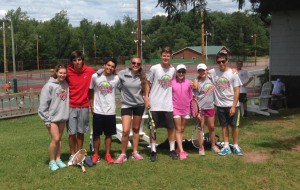 That's all the news that we have for today, our last day of the 1st session.  For those of you with children coming home tomorrow, enjoy your last evening of peace and quiet (Ha!).  To you and everyone else, ILC U THERE!