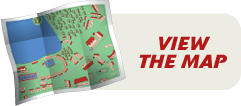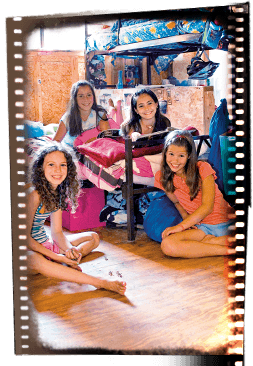 Island Lake is located in the beautiful Pocono Mountains in northeastern Pennsylvania. It is a picturesque setting on our 550 acre property, which includes two large lakes for all of our water sports and many trails to accommodate our Equestrian, Mountain Biking, and Outdoor Adventure programs.
Bunks
All of our bunks have been completely renovated in '21. Renovations included new siding, roofs, knotty pine interiors, electric, cubbies and lighting. Renovated bunk bathrooms include three showers, two toilets and two sinks. Each camper has their own dedicated outlets and cubbies for their clothing and storage.
Dining Room
Campers enjoy meals in our modern, air conditioned cafeteria-style dining room. Our breakfasts include a choice of cold cereals and eggs, as well as a hot entrée including pancakes, waffles, and french toast. For lunch and dinner, we offer a choice of several main courses, fully stocked salad and potato bars, fresh fruits, pastas, juices and milk. Of course, we also offer a vegetarian course with each meal and have a dedicated chef for any campers that are gluten free or have other special dietary needs. We are also nut and peanut free. Our meals would not be complete without our homemade desserts prepared daily by our own in-house baker.
Health Center
Our 6,000 square foot, modern air-conditioned health center is equipped well to handle camper medical needs. Our comfortable facility has multiple sick rooms with cable tv for campers that need to stay overnight . Our doctor and 5 nurses, many of whom have been working at ILC for years, are prepared to handle any medical needs that may arise.
Activity Facilities
Olympic-size swimming pool in addition to our two on-campus lakes. Campers participate in all swimming, waterskiing, and boating activities, or they can relax on the beach with their friends.
20,400 square foot athletic center, ball fields, volleyball courts, archery center, hockey rink, mountain biking center, batting cage, basketball courts, gymnastics center, 10,000 square foot state-of-the-art skate park, 13 tennis courts, golf driving range, putting greens, 4 golf holes (2 par 3 and 2 par 4) and 18-hole disc golf course course accommodates our athletes.
Art is located in a pavilion-style building so campers can spend their creative time in the fresh air. The building includes everything from woodworking tools to pottery wheels and more.
ILC's circus building is one of the best in camping. Our 10,000 square foot Circus facility is complete with 25 aerial circus apparatuses. Circus also has both indoor and outdoor flying trapezes which means that on a rainy day all circus activities can be held.
The equestrian center, complete with an indoor riding area along with an outdoor ring and many trails throughout the camp, can accommodate 24 horses with ample indoor stable space for both English and Western riders. With indoor facilities, all equestrian activities can be held on rainy days.
The theater building offers state of the art digital lighting and professional sound. It also houses technical theater departments, which include space for tools, props, sewing machines and a costume storage area, and spacious rehearsal rooms, allowing the campers to perform in a professional setting.
The outdoor adventure program includes a challenge course, climbing tower, giant swing, and zip line. ILC's challenge course is massive in size and offers both beginner stations as well as advanced elements more than 50 feet high.
The media center houses plenty of digital workstations for campers to work on their digital movies, website designs and other media projects including the Island Lake newspaper. All computers are leased annually allowing ILC to have the newest equipment possible.
Additional facilities include two dance studios, a magic building, three music studios, a cooking facility with more than 7 cooking stations, and a science and robotics center.
Canteen
Each night, after evening activity, we all head for the canteen where you can have snacks and socialize with your friends. The canteen offers you a rotating selection of hamburgers & hot dogs, ice cream, hot pretzels, popcorn, slushies and healthy snacks. It's a great way to end your fun-filled Island Lake day!