Happy "Visiting Day Eve"! We've been preparing for this very special day and we anticipate that it will be fantastic for all. Please peruse yesterday's blog for more details about tomorrow's festivities.
I know I sound monotonous at this point but once again we had a beautiful day in Starrucca, PA. We woke up with some clouds mixed but by afternoon the temps rose to the low 80's with hardly a cloud in the sky. Did we even have 1 day like this last summer? I love this camp weather!
There's been a weather update for tomorrow that you should continue to follow on your devices. There is now up to a 50% chance of rain in the afternoon hours. This can change again many times so please be prepared when you come to camp tomorrow morning.
In ILC sports, I found out late in the day yesterday that a couple of our avid golfers went out of camp yesterday morning for a big competition against several other camps. In their group of about 20, they placed 3rd and 5th. Whoop whoop! Our 9th– 11th grade boys went to another camp this morning to play in a soccer match and we won, 9-0! Great job to our boys with the shutout! Over 20 of our avid pioneers took a trip to Prompton State Park in Honesdale, PA for a climbing trip today.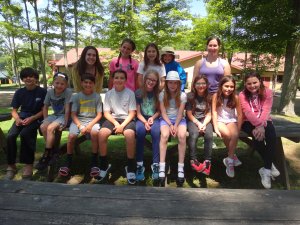 Being that this is our 33rd summer of ownership here at Island Lake, we currently have campers of alumni who attended ILC in our early years. As the group gets larger and larger each summer, I like to gather those kids for an annual photo. Here's our session 1 group of "alumni campers."
The answer to yesterday's riddle was ember or lava. Here's today's riddle: What is the difference between one yard and two yards? I tried guessing the following: more to mow, 3 feet, the letter "s", but apparently none of these are the answers. Help me!
Tonight's evening activity is the amazing, fantastic, superb hypnotist, Brad Henderson! Our campers and staff will witness Brad hypnotize about 15 of our counselors on the theater stage. This is another one of our campers' favorite evening activities. They get to watch their counselors embarrass themselves while doing hysterically funny things in front of the camp. Tonight is also ETB, Early To Bed. Once our counselors are done making fools out of themselves on stage (hardy haha!), everyone will go back to their bunks to get a good night's rest for tomorrow's festivities.
Today's special feature is ROCK SHOP! Until tomorrow, when we will see many of your smiling faces here at Island Lake, ILCUTHERE!