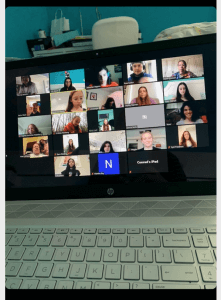 Hey ILC families!  We hope you are all feeling healthy and well while adapting to these new temporary changes in our everyday lives.  This international Coronavirus pandemic feels completely surreal as everyone struggles to remain at home and maintain social distancing when they must leave the home for essentials.  A bright side to all of this,…Island Lake Summer 2020!  We are still forging ahead and preparing for camp this summer.  We are hopeful that this virus will have cleared up by June, making sleep away camp a sure thing for this upcoming summer.
I have been organizing some group games via Zoom for all of our Island Lakers to participate in, both campers and staff.  I have sent out emails to parents to share with their kids and last week I hosted our very first "Virtual Music Lunch."  I broke it up into groups and we had well over 100 people participate, which was a fantastic turnout.  I'm excited to report that this upcoming Thursday and Friday I will be hosting an all camp game of PANIC!  Yup, that's right, your children will have the opportunity to participate right there in your homes.  My email will explain in more detail but for those of you who aren't familiar with Panic, think of it as a big scavenger hunt.  I'll have your children running around your homes to find specific items (an Island Lake t-shirt) and they'll have to get creative while being the first to put on their ILC shirt and sing the camp alma mater to me.  That's just one example of the fun we'll have later this week.
Now, back to business as usual with my monthly blog.  Wowza, how did April sneak up on us so quickly?  With spring in the air, excitement is building and summer 2020 is right around the corner.  As of April 1st,  we have only 87 days until camp begins!  Woohoo!!!  We will be moving our offices up to camp the first weekend in June, so mark your calendars as all correspondence should go directly to our summer address in Starrucca, PA at that time. 
If your child is already enrolled for summer 2020, please be sure to fill out your Profile and Transportation Forms here on our website.  Just click the "CampMinder Login" link on our homepage and you will be prompted to enter your email address and password.  First time users can click "First Time Users – Create Account" below the login link.  If your child is a returning camper, we suggest you use the same password that you used last summer to access our daily photos and send emails.  You will then have access to the Profile and Transportation Forms.  The Medical Form is not in CampMinder so please be sure to fill out and complete the form that was previously mailed to your home.  You can also download our Medical Form here by clicking "Island Lake Families" at the top of our website and then "Forms & Mailings" on the left side of the page.  We have many important forms there for you to print out and use as a guide for packing and what not.  We understand that many Medical Forms will be delayed since you're unable to go in and see your doctor, so just give us a shout if that's the case for your child and we'll make note of it in our records.  We can be reached at info@islandlake.com or 914-769-6060.
As a reminder to all of our summer 2020 families, please be sure to read our monthly newsletters.  The newsletters provide lots of information important to your child's upcoming summer.  Our newsletter link is located right here on our website ("Island Lake Families" and then "ILC News").  We also send an email reminder to all of our camp parents on the 1st of every month.  Please share our newsletter link with your children because we hear they absolutely LOVE to read it and look for themselves and their friends in all of our photos.
In early May we will be posting a great deal of additional info on our website.  This will include a camper handbook, parent handbook, activities handbook, medication policy, information about emailing your child, viewing photos and videos on the web, and lots of other important camp information.  Be sure to read through all of these handbooks/letters/policies, as there will be tons of important info to prepare your child for a fantastic summer experience.
Have you registered your child for this upcoming summer?  If not and you still plan to do so, please, please, please do not put it off any longer. We truly do not want to turn away any of our devoted campers. It only takes a few minutes to fill out the registration form and send it in to our Chappaqua, NY office. If you don't have an enrollment form handy, click "Island Lake Families" and then "Forms & Mailings" to the left of the page and print the "2020 Enrollment Form".
Well, that's about it for now.  Enjoy your navigation through our site checking out all of our fun-filled activities and smiling faces.  Island Lake Camp offers a program that furthers your child's growth, independence, and sense of decision-making while simultaneously giving them the responsibility to create their own exciting summer.  
We are optimistic that camp will open on time this summer.  Please continue to read all emails that we send out to you, our current Island Lake Camp parents.  Enclosed in those emails is important up to date info regarding summer.  We will also be sending out info regarding camp forms and literature.  To all current Island Lake families, we look forward to an amazing summer 2020 with your children.  To all prospective families, feel free to contact us if you have any questions after browsing our website:  914-769-6060.  And last but not least, to all,…ILC U THERE!