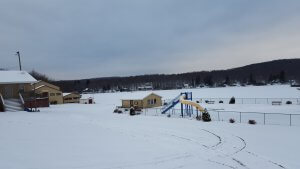 Happy February to our Island Lake Families!  As we sit here in our winter office feeling the frigid temps outdoors, it seems as though summer 2019 was all a distant dream.  However, our summer 2020 countdown has already kicked into gear and lucky for us, camp will sneak up on us before we know it. 147 days to go as of February 1st! 
We are busy preparing for our big trip that we are offering to all of our oldest campers this summer.  We're excited for our annual 4 day/3 night TEEN TRIP in our 2nd session to MONTREAL and QUEBEC!  This amazing trip will be offered to all campers entering 9th grade and higher.  For those families with campers eligible to go, keep an eye on your mailbox (actual mailbox, not virtual one) for more details to arrive real soon for this fun-filled experience.  There will be a trip enrollment form for you to fill out and return to us at our winter office.  We also have info regarding this trip in our monthly newsletters.  Highlights of this trip include La Ronde Amusement Park, Olympic Park, Voiles en Voiles (a huge outdoor ropes course), SOS Labyrinthe (a fun, yet difficult, indoor maze that's sure to get our campers lost for what will feel like hours), a day trip to Quebec City, Jetboating, and more.  So,…much,…FUN!!!
A reminder to our summer '19 and '20 families; don't forget to read our monthly newsletters.  You can access them here on our website ("Island Lake Families" and then "ILC News").  Our newsletters provide important information for parents as well as campers, including enrollment and availability updates.  
 Speaking of enrollment, if you have not yet registered your child for summer 2020 but plan to do so, please, please, please do not put it off any longer.  Some bunks are now completely full.  We truly do not want to turn away loyal campers so let's avoid that from happening.  You can register your child with the registration form mailed to you or you can download the form here on our website under "Island Lake Families" and then "Forms & Mailings".  It only takes a few minutes to fill out the registration form, we promise!
To all current Island Lake families, we look forward to an amazing summer 2020 with your children.  To all prospective families, feel free to contact us if you have any questions after browsing our website:  914-769-6060.  And last but not least, to one and all,…ILC U THERE!