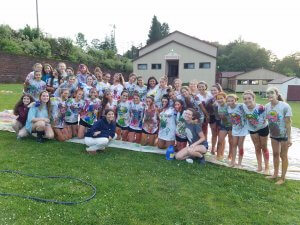 Happy March to our Island Lake families!  Our summer 2020 countdown has kicked into gear and lucky for us, summer, and for that matter camp, will approach before we know it.  118 more days as of March 1st!  Wow, we're almost at the double-digit mark!
By now, all summer 2020 families should have received a letter regarding forms along with a Medical Form.  Both a parent and a physician, as required by Pennsylvania law, must complete the Medical Form.  On our website we have TONS of information to prepare you and your children for this summer.  There are forms online that we request you fill out promptly via your CampMinder account. The Profile Form helps us guide your children when they choose their activities and put together their schedules. The Transportation Form lets us know which bus your children will be taking to camp. If we do not receive the Transportation Form in our office by May 1st, we will have to assign a bus to your children. In June, we will send you detailed information about the bus locations along with luggage tags that you will use to mark your children's duffels.  You can access many other forms (packing lists, hotels for Visiting Day, etc.) on our website at islandlake.com and then click "Island Lake Families," and "Forms & Mailings."
A reminder to our ILC families, don't forget to read our monthly newsletters.  You can access them here on our website or at the start of every month.  The newsletters provide important information for parents, as well as campers, including enrollment and availability updates.
Speaking of enrollment, if you haven't yet registered your child for summer 2020 but plan to do so, please, please, please do not put it off any longer.  Some bunks are already full.  We truly do not want to turn away any of our devoted campers because of this.  It's very difficult for us when forced to do so every year.  Don't let that happen to your child.  It only takes a few minutes to fill out the registration form, we promise!  If you don't have one handy, click "Island Lake Families", "Forms & Mailings" and then print the "2020 Enrollment Form". 
To all current Island Lake families, we look forward to an amazing summer 2020 with your children.  To all prospective families, feel free to contact us if you have any questions after browsing our website:  800-869-6083 or 914-769-6060.  And last but not least, to one and all…. ILC U THERE!