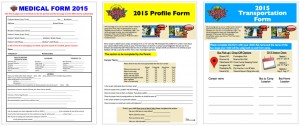 All Summer 2015 Island Lake families should have received their annual camp folders. There is a great deal of information in this folder to help prepare your child for a successful camp experience. Please take some time to read through everything thoroughly and fill out and return the required forms. We cannot emphasize enough the importance of filling out the forms in a detailed, timely manner. These forms provide us with extensive feedback regarding your child so that our staff can have thorough, accurate knowledge about each camper in order to provide him or her with a safe and successful summer. Profile, Medical, and Transportation Forms must be submitted by May 1st. These forms are necessary for us to finalize plans for the summer.
The Profile Form helps us guide your children when they choose their activities and put together their schedules. Both a parent and a physician, as required by Pennsylvania law, must complete the Medical Form. Please note that incomplete Medical Forms will be returned to you. The form must have your complete insurance information and a credit card number for any out of camp medical expenses. Every Medical Form needs to be signed by both a parent and a doctor.
The Transportation Form lets us know which bus your children will be taking to camp. If we do not receive the Transportation Form in our office by May 1st, we will have to assign a bus to your children. In June, we will send you detailed information on the bus locations, along with luggage tags that you will use to mark your children's bags. If you have any questions or need any help filling out your forms, you can always give us a call in the winter office at 914-769-6060 and we'd be happy to help you!
We encourage you to use our online system instead of paper forms. If you have not already done so, go to islandlake.com and click on "CampMinder Login". You will be prompted to enter your email address and password. If this is your first time using the CampMinder system, just click on "First Time Users – Create Account."