HO HO HO!  Merry Christmas in July everyone (and Happy Hanukkah)!  Today we had a fun theme day to keep the spirit high.  Some campers brought holiday clothing to camp to wear, some made things in art, and we even had a Santa Claus come and visit camp.  Good thing the weather cooled off, especially for Santa in that costume.  Whoops, I mean what costume?  Santa is real, right?
Speaking of the weather, I'm happy to report that the temps have definitely cooled off here in Starrucca today.  We woke up to overcast skies and we only made it into the mid 60's all day.  The rain started during 1stmajor this morning and it has rained pretty continuously ever since.  This is our first real official "rainy day" here at camp. After experiencing that heat wave for the past few days, we'll happily take this cooler weather.  As for the rain, well, hopefully today will be the only day we have it.
Today in ILC sports, our gymnasts went out of camp for an all day meet at another Wayne County camp. Our 9th  grade boys played in a basketball game here at home this morning.  It was a close game but we came out ahead and won 27-24.  Go boys!
Being that this is our 34th  summer of ownership at Island Lake, we currently have a couple of dozen campers who are children of our alumni.  These alumni attended ILC as campers in our early years.  As this group of 2nd  generation Island Lakers gets larger and larger each summer, I like to gather them together for an annual photo.  Here's our session 1 group of "alumni campers."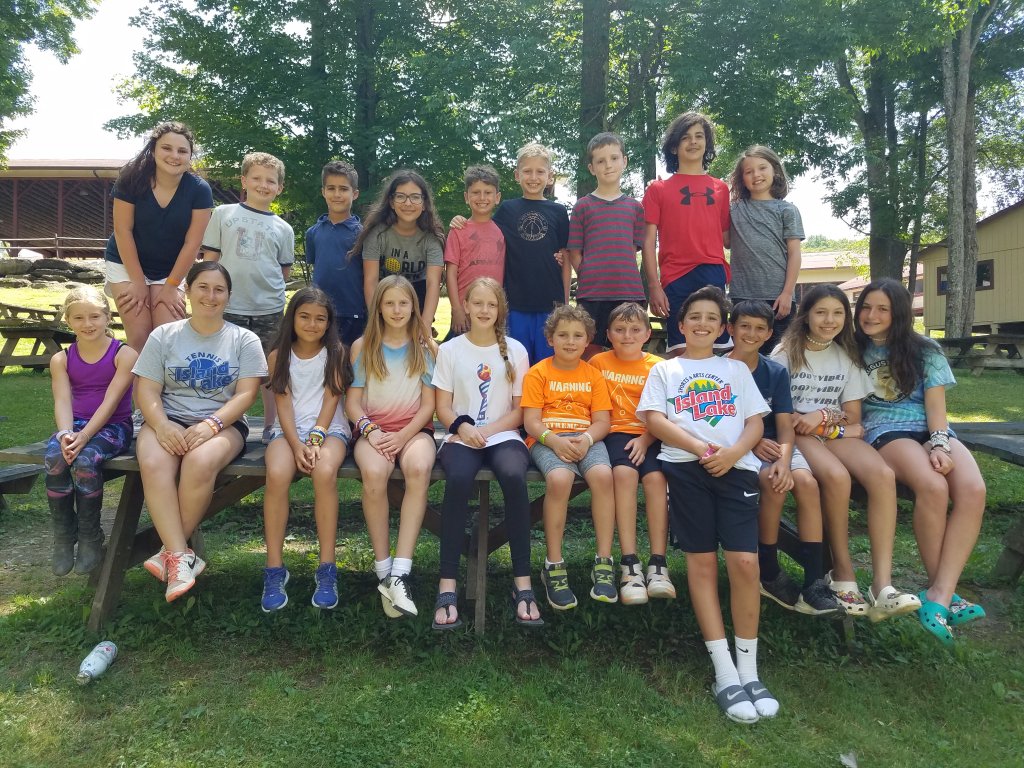 Yesterday's riddle was an easy one according to feedback:  A butcher is 5'11" tall and has a size 13 shoe. What does he weigh?  Answer:  Meat! Congrats to the following parents for getting this riddle correct:  Brian G., Joe S., Adira B., Ben W., and Jen W.  Here's today's riddle:  I have four blades yet I draw no blood.  What am I?
Tonight's evening activity is Christmas in July!  We're going to take pictures with Santa, offer Christmas Karaoke, cookies and milk, face painting, reindeer games (pin the nose on Rudolph), and lots of other fun holiday stuff.
Today's blog special feature is MAGIC, SCIENCE, & VIDEO! Merry Christmas, Happy Hanukkah, and until tomorrow, ILCUTHERE!