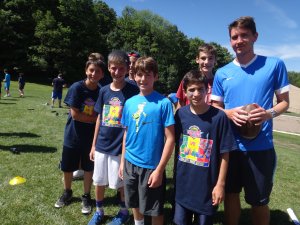 Summer 2017 is right around the corner! As of today, May 15th, according to our Island Lake website and app we have only 40 more days until camp begins! Excitement is building as the thrill of summer approaches! We move our offices up to camp the last weekend of May so as of May 30th, all correspondence should go directly to our summer address in Starrucca, PA.
By now, all new families enrolled for summer 2017 at Island Lake should have received our spring mailing. This entire mailing is available for all of our returning families here on our website under "Island Lake Families" and then "Forms & Mailings."   In this mailing and online are our camper, parent, and activities handbooks, our medication policy, and our social media policy.
A couple of months ago we mailed an Open House flyer to all of our new Island Lake families. If your child is new to ILC this summer, please return the bottom portion of the Open House flyer to let us know if you will be joining us at camp on Saturday, June 10th at 11am. We're very excited to meet many of our new Island Lakers and their families that day.
With summer right around the corner, many of you have probably started your camp shopping. If you're really organized then hey, perhaps you've even begun the packing process! Be sure to refer to your Suggested Items for Camp (packing list) and Suggested Equipment List to assist you with this big ol' fun task. Don't forget, all camp forms can be retrieved any time right here on our website under "Island Lake Families" and then "forms and mailings." Remember to label all items of clothing and equipment, too.
If you'd like to purchase Island Lake clothing and camp gear, you can do so by going to the Bunkline website. There's a direct link from our website and here it is for your convenience: http://www.bunkline.com/category-s/125.htm. You can always find this link under "Island Lake Families" and then "Camp Store." Remember, Island Lake is not a uniform camp so all ILC clothing is optional. We will also give every camper an Island Lake t-shirt when they arrive at camp.
At the "Camp Store" we also have customized Island Lake Islides that you can order for your child. Just click the link for more info about them at the store. We started working with Label Daddy this year, as well. They make great name labels for all of your children's clothing and equipment. Here is a direct link to the Camp Store: https://www.islandlake.com/current-camp-families/camp-store.php
Parents, we highly recommend that you read all literature that we mail to you and post on our website at the forms & mailings link. Many answers to your questions can be found there. Our handbooks, packing lists, variety of forms posted on our website, and monthly newsletters provide a great deal of important information that will help prepare you and your children for a fantastic summer 2017. If you have any additional questions, feel free to contact us at our winter office until May 26th and at our summer office as of May 30th.
We are looking forward to the most amazing, fantastic, spectacular, wonderful, awesome, unbelievable, exciting, memorable summer ever at Island Lake! ILC U THERE!!!