Hi Island Lake Families! This morning we woke up to some chilly temperatures. As soon as the sun rose high in the sky the temps warmed up here in the 18462. The start to summer has been a little cool but it looks like that will change very soon. I feel déjà vu at the moment because we experienced this chilly weather at the start of camp last summer as well.
I'm happy to report that Island Lake 2018 is now officially in full swing. Our campers are adjusting to their majors, trying out new activities for their minors, and are becoming great friends with their bunkmates. I hope you can see all the joy on your children's faces in our daily photos.
Speaking of photos, we started to take bunk pictures. Once they're complete, we will post them in their own folder on CampMinder. You can check out our 5-year jacket and 10-year jacket pics now for your viewing pleasure.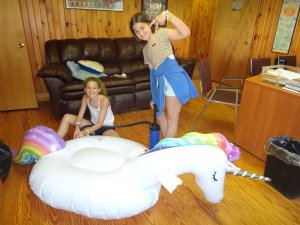 Soooo, our campers have brought quite a variety of unique games, toys, trinkets, and what nots to camp this summer. On the right you can see Sydney and Sutton working hard in my office to put the final touches (and by touches I mean air) into their bunk mascot.
I have a funny story to share with you that I think is going to put a huge smile on your faces. I have an ongoing joke with one of the younger boys bunks and every day is a "free hug" day for them. For instance, Sunday was "Free Hug Sunday" and Monday was "Free Hug Monday." I decided to switch it up on the boys for fun this morning and tell them my hugs weren't free today,…ya know, because I don't want it to get played out in the first week of camp (wink wink). Well these boys acted as if they didn't care so I told them I was charging for hugs. I then took it one step further and told them it would cost them a canteen token to receive a hug from me. They continued to laugh at me and tell me there's no way they're paying me a token for a hug, so I left their breakfast table feeling defeated. I went on with my day, business as usual, and returned to say hello to them once again at lunchtime. The biggest shocker was when a counselor told me one of his campers who I never hugged before (I always ask new "huggees" permission first) brought canteen tokens to lunch so he could receive a hug from me!!!! I was dying! He took them out from his pocket to hand over to me and I gave him a big hug with an even bigger smile on my face. This boy just made my day. I explained to him that I was only joking and I'm happy to give him a free hug anytime he'd like. Following this exchange, much to my surprise, the boys who had laughed me off in the morning all asked for hugs as well! How cute is that? I love camp!  (Disclaimer for anyone who skimmed that paragraph: No money/canteen tokens were exchanged for hugs at any time!)
Anyway, now back to ILC news,…tonight's evening activity is GROUPS. The boys and girls of each group will be playing together so here's a breakdown of what everyone is doing:  Group 1- crazy games (variety of games in the gym); Group 2- capture the flag; Group 3- gaga; Group 4- pool party.
Today's special feature is SPORTS. It's amazing to see so many exciting activities going on here at ILC. Enjoy these pics and until tomorrow, ILCUTHERE!