Happy Wednesday everyone!  Now that our campers are all well rested from last night's ETB, tonight they look forward to LTB (Late to Bed).  Tomorrow is our 2nd Lazy Day of the summer.  Groups 1&2 are going to see "How to Train Your Dragon 2", Groups 3&4 are going to the bowling alley, and Group 5 is going to a Binghamton Mets game.  Lazy Day should be a great time for all.
Today's special feature will be a guest blog held by, GIRLS BUNK 3!  They all came into my office (Wendy's office, that is. Guess you now know who the daily blogger is, lol!).  The following are in G3:  Counselors- Alison, Ashlee, Nicole, & Rachel:  CIT's- Emma & Grace:  Campers- Alyssa, Avery, Maclyn, Rachel, Whitney, Morgan, Chloe, Zoey, Sidney, Jordan, Rebecca, & Jane:  Group Leader- Kelsey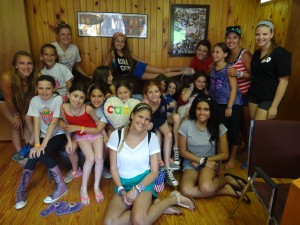 And now, a word from our campers:
"Island Lake is the best camp ever!" – Rebecca
"Circus is awesome!" – Rachel
"Island Lake is our home away from home!" – Zoey
"I-L-C is the place to be!" – Alyssa
"I wish Island Lake was all year round!" – Chloe
"We make new friends every day!" – Avery
"The archery teacher for major 1 is the best!" – Whitney (hint: the archery teacher is her counselor, Nicole)
"The kids, the CIT's, the counselors, and the group leaders are probably the best thing that ever happened to this camp!" – Sydney
"Tennis is super fun!" – Jane
"I love when our counselors eat hot peppers to help us get over our fears!"- Jordan
"We love hearing Rachel's stories!" – Maclyn
"We have the craziest bunk!" – Morgan
A message from the CIT's:  "We enjoy being a CIT because we get the experience of being a counselor while still being able to participate in camp activities as a camper.  We could not have asked for a better bunk of girls.  We love them with all of our hearts!"
A message from their counselors:  "Our bunk is our family!"
A message from the group leader:  "I'm so lucky to have this bunk in my group.  Their smiles and happiness brings me such joy each day.  Each child has an individual spark to bring to the bunk, which makes the bunk truly remarkable.  Being a group leader would not be the same without them!"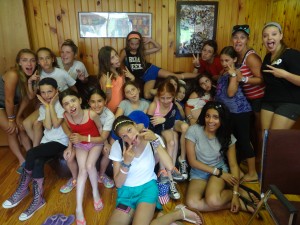 We hope you enjoyed reading today's special feature blog.  Until tomorrow, ILC U THERE!