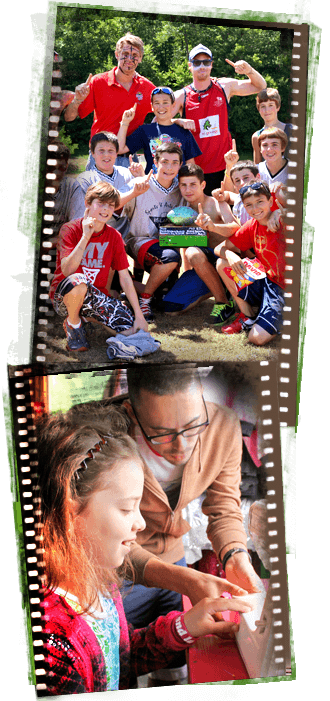 What makes Island Lake special?

We pride ourselves in providing an environment rich in experience, attention, fun, and individual achievement. We are a unique camp in that our campers choose their own activities and do not travel with the bunk from activity to activity. Therefore, all of our counselors are specialty counselors, teaching in any of the various activities we offer. Additionally, Island Lake is unique because of the bonds that form between the campers and the counselors. You are almost guaranteed to make friendships that will continue for your lifetime. Our counselors tend to go home after the summer with a feeling of growth, accomplishment, and a love for children.

Where is Island Lake located?

Our camp is located in the Pocono Mountains of Pennsylvania, on the border of New York State. Our 550-acre camp is only about 2 1/2 hours from New York City. We are within driving distance of Boston, Philadelphia, Binghamton, Ithaca, Syracuse, and Niagara Falls for your days off.

Where do campers and staff come from?

Our campers come predominantly from the northeast. We have a large number of campers from other areas of the country, as well as from overseas. We travel to universities all around America and Canada to hire our staff and we also travel to England, Scotland, Australia, and New Zealand each year. There are staff members from many other countries including Eastern Europe and South Africa.

How many periods do I teach each day?

Bunk counselors teach five of the six 1-hour periods per day. Every bunk counselor is guaranteed a period off each day.

How do the nights and days off work?

You will have three nights off per week. You will also be given five days off during the course of the summer.

What are the meals like at camp?

We serve cafeteria style in our dining room. For breakfast, we offer a choice of cold cereals, as well as a hot entrée such as eggs, pancakes, waffles, etc. For lunch and dinner, we offer several main entrees, one of which is always a vegetarian option. There are fully stocked salad bars at every meal. Substitutes are always available as well as a choice of beverages including juices, milk, and hot chocolate. Our own pastry chef provides us with fresh rolls, breads, cookies, and cakes at each meal, giving Island Lake some of the best camp food around.

What are the bunks like?

All of our bunks were fully renovated in 2021. There are 3 counselors and about 12 campers in every bunk. Our bunks have cubbies, hanging space, and dressers, with electrical outlets between the beds. The newly renovated bathrooms include 3 showers, 2 sinks, and 2 toilet stalls.

What is the weather like at camp and what kind of clothing do I need to bring?

During the day, the temperatures are generally in the 70's and low 80's Fahrenheit. At night, the temperature can drop to the 50's and 60's. You need to bring appropriate clothing for cold, warm, and wet weather. We provide you with clothing and equipment guidelines.

Will I have to bring anything for my department I will be working in?

The camp will provide most equipment, but we ask that you bring anything necessary to teach the activity you are instructing. Some examples of things to bring are:
Tennis- tennis racquets
Sports- equipment for your specialty
Music- instruments
Dance- music to choreograph dances

How much money should I bring for the summer?

This solely depends on what you want to do on your days and nights off. Everything at camp (food, laundry, and lodging) is paid for. You will want spending money for your time off.

Will I be able to get an advance during the course of the summer?

Halfway through the summer you will be able to get a pay advance of $200.

Will I be able to utilize any of the other activities on camp?

Absolutely! During your time off, you are welcome to explore any of the other departments on camp.

Is there a staff lounge?

You can spend your time off relaxing in our staff lounge. It is equipped with satellite television, video games, snacks, and more. You may also use your phone and the internet while at the staff lounge.