Sydney Birkhahn & Camryn Heyman spent a fun weekend together recently.  They did lots of eating, as seen in the first photo.  In the second photo the girls were polishing off their pioneering skills to hopefully run the program at camp someday!  (Sorry Tim O.!)
While overseas in Tel Aviv, Israel, Ethan & Chase Mundell ran into Jacob Harelick at the airport.  See, ILC friendships are truly those that will last a lifetime throughout the globe!  You will run into camp friends where you least expect it at the most random of times and places in life,…and that rocks!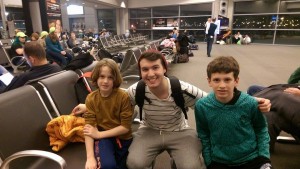 Sara Binday recently celebrated her Bat Mitzvah with just about everyone from her bunk last summer.  Mazel tov to you, Sara!  We're sure your camp friends made your day extra special and fun!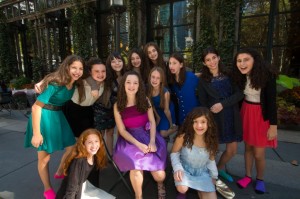 Front row:  Julia B, Sara B, Sami B, Zoe F;  Back row:  Rachel B, Gabby G, Gillian B, Nora D, Julia S, Rebecca P, Alison G, Ryan P
Sam Kasmin recently spent some time with Jason Kaufman and with Trey & Dustin Stabinski in sunny Florida. It's really nice that Sam travels to see his camp friends throughout the winter months.  We hope you had a blast with your bunkmates and their families, Sam!