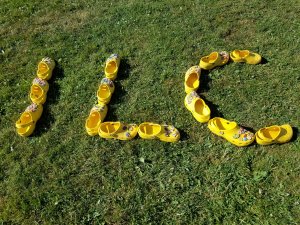 Hey Island Lake families!  I hope you're all having a wonderful summer.  It's still so sad and unfortunate that we aren't up at camp with our happy campers watching them create beautiful friendships, learning and enjoying our fantastic activities, and making wonderful memories to last them a lifetime.  I know you all quickly had to scramble to find alternate summer plans for your children.  I hope it worked out well for you and that most importantly, you're all remaining healthy!
We've been doing our best to stay in contact with our campers via Zoom activities that we are running 3 times per week.  Although we are getting a nice turnout, we'd still love to see even more campers join us.  This week we had Magic with Bill, Theater Games with Corie, and Cooking with Dave.  Please share the emailed links to these Zoom activities with your children so they can all participate and have some good ol' fashioned virtual camp fun.  Next week we will offer Magic with Bill, Art with Poppy, and Pioneering with Gramps.  Again, please share these Zoom links with your children so they can all participate.
I have to say, it doesn't even really feel like summer since we aren't all up in Starrucca together.  It's hard to believe that if we were at camp, we would already be into our 2nd session.  We would have already had some milestone events such as Visiting Day and Changeover Day.  Soon we'd be breaking out into our annual tradition of Color War!  3 days of pure fun as we would break up the camp into 2 teams, themes to be revealed at the moment Color War broke.  We'll just hold on to those themes for next summer, not to worry.
I miss your children so much this summer.  Seeing what a summer is like without ILC has made me appreciate my home away from home even that much more.  I know this year will fly by and I truly truly hope that we will be able to safely reunite at ILC once again next summer.  Let's send some good vibes all around to make sure that summer 2021 gets here safely and gets here quickly.  Until then, ILC U THERE!!!