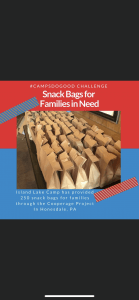 Hey Island Lake Families!  Wow, how did May sneak up on us so quickly?  With spring in the air, excitement is building and summer 2020 is right around the corner!  Yay!  Our hope is that we will be moving up to camp by early to mid-June.  If we are cleared to do so then at that time all correspondence should go directly to our summer address.  We will keep you apprised via email with all of these specific dates.  
We are happy to report that we had the opportunity to pay it forward and donate to The Cooperage Project in Honesdale, PA.  By doing so we provided over 250 snack bags for families who need some extra assistance during these challenging times.  We got involved with the Cooperage Project by participating in the #CAMPSDOGOOD Challenge as you can see in the photo to your right.
Although there is still so much up in the air with regards to the Coronavirus and the starting date of camp, we are moving forward and we are still preparing as if we are to start camp on time on June 27th.  Therefore, if your child is enrolled for summer 2020, please be sure to fill out his/her Profile and Transportation Forms right here on our website.  All forms were due on May 1st.  If you haven't yet taken care of these forms (whoopsie!), please do so right now.  Just click the "CampMinder Login" on our homepage (islandlake.com) and enter your email address and password.  If you have not yet created a CampMinder account, click "First Time Users- Create Account" and follow the directions. 
It is imperative that we have a Medical Form on file for every child attending Island Lake this summer.  We understand that many of you have not been able to take your children to see your pediatrician for their annual visit just yet.  Please do not worry about the May 1st deadline for this form.  Just be sure to fill it out in its entirety and then send it to us prior to your children's arrival at camp.  The Medical Form cannot be filled out online so please use the form that we mailed to your home a couple of months ago.  If misplaced, click the following link for a copy: 
https://www.islandlake.com/pdf/2020/Medical-Form-2020.pdf
The form is located on our website under "Island Lake Families" then "Forms & Mailings."  As a reminder, you can mail the completed Medical Form to our NY winter office until late May/early June.  After then, please mail the form to our summer address at camp.
Attention all new and returning Island Lake families!  By now you should have received an email regarding all of our "Spring Mailing" information.  Included are your Parent Handbook, Camper Handbook, Activities Handbook, Medication Policy letter, as well as an Open House flyer.  These handbooks and flyers are available for you on our website under "Island Lake Families" and "Forms & Mailings."  Whether you are returning or are new to the Island Lake family, please make sure you and your children take a few minutes to sit down and read these forms and handbooks thoroughly as we always add new information.  
Are you a returning ILC parent who has not yet signed up your child for this upcoming summer?  We understand your apprehension to enroll for camp at this time.  However, some of our bunks are now completely full.  We truly do not want to turn away any of our devoted campers.  Feel free to give us a call to discuss enrollment.  If you don't have a registration form handy, click "Island Lake Families" at the top of the page and then click "Forms & Mailings" and print the "2020 Enrollment Form."  You can mail, email, or even fax it (yes, fax machines do indeed still exist!) directly to our NY office until the end of May, upon which you can then send it to our summer address at camp.  For faster enrollment, you can simply scan/email the registration form to us at [email protected]
To all current Island Lake families, we are still hopeful that we will be able to open camp and provide your children with a wonderful summer experience.  If your children are enrolled with us then you are receiving our emails in which we are keeping you up to date on the status of camp based on all of the information we are receiving from the CDC, ACA (American Camp Association), and the state of Pennsylvania.  If you are not yet enrolled, please send us your children's registration form so we can add you to our mailing list.
To all prospective families, feel free to contact us if you have any questions after browsing our website:  914-769-6060.  As of approximately June 1st or shortly there after, you can contact us at 570-798-2550.  In the meantime, let's keep the countdown to Summer 2020 going, keep your fingers crossed, keep the wishful thinking alive, and keep on shouting at the top of your lungs, "ILC U SOON!" so it can all come true!!!