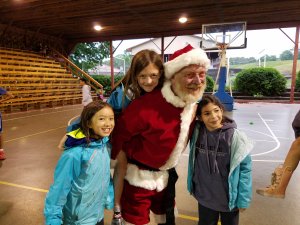 Hey Island Lake Parents!  We hope you had a wonderful Thanksgiving holiday.  With winter just about here, it is our hope that your children will always have "camp on the brain" and continue to share their wonderful ILC summer 2019 memories with you.  Our countdown for next summer has already kicked into gear and opening day of camp will emerge upon us before we know it.  As of December 1st, only 207 days until summer 2021 at Island Lake will be here!  We know how important it is to make sure that this upcoming summer is absolutely the BEST ONE YET!!!
Here in our winter offices we've been staying busy not only preparing for this upcoming summer, but we've also been participating in Zoom calls with other camps and the American Camp Association to be sure we run ILC in a very SAFE and fun manner for all in summer 2021.  It's still too soon to provide you with any definitive details but those will come later, closer to summer.  We will do everything in our power to open up Island Lake this summer for all of our amazing campers to reunite with one another once again and ENJOY BEING CHILDREN!!!
Reminders to all families, returning and new, don't forget to read our monthly newsletters.  They are located right here on our website.  Our newsletters provide important information for you, including enrollment and availability updates.  If you'd like to read our newsletter on our website, you can simply go to the "Island Lake Families" link above and then "ILC News" on the left-hand side of the page.  You can also click the following link to view it:  ILC News
Speaking of enrollment, if you have not yet registered your children for summer 2021 but plan to do so, please, please, please do not put it off any longer.  Some bunks are now completely full.  We truly do not want to turn away our loyal campers, so let's avoid that from happening.  You can register your children with the enrollment form mailed to you with your monthly newsletter or you can register right here on our website.  Just click "enroll" at the top of the page and follow the directions.
With all of the winter cheer around us, we wish you and your family a spectacular holiday season!  Happy Hanukkah, Merry Christmas, and a happy and healthy New Year to all!  ILC U THERE in 2021!