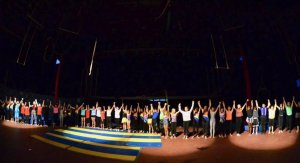 Happy New Year!  All of us at Island Lake hope you had a wonderful holiday season filled with love, happiness, presents, and lots to reminiscence about your children's wonderful memories of their 2019 ILC experiences.  As we sit here in our winter offices with the chill outside, it feels as though summer 2019 is a distant, yet fond, memory.  Our countdown for summer 2020 has already kicked into gear and our opening day of camp will be here before we know it.  Words cannot even describe our excitement for summer to get here already!  178 days until camp begins (as of January 1st)!
Our camp reunion in November was a huge success!  Screams of excitement filled the air as campers and staff embraced one another.  We had a fantastic turnout, including children and counselors who flew in from other parts of the country just to see their camp friends.  The reunion never seems to last long enough.  Time flies when we're having fun catching up with many of our Island Lakers.  Check out our reunion photos posted right here in December's blog. 
We're busy planning for our annual session 2 TEEN TRIP, which this summer will be to Montreal & Quebec.  This trip will be offered to all campers entering 9th grade and higher.  Check out more details in your January newsletter and if you have any additional questions, feel free to give us a call.  The enrollment form and details for this trip will be mailed out shortly to all who are eligible to take advantage of this fun-filled experience. 
A reminder to our summer 2019 and 2020 families; don't forget to read our monthly newsletters!  You can access them right here on our website.  Our newsletters provide important information for parents as well as campers, including enrollment and availability updates.  Here's a direct link to the newsletters on our website: ILC Newsletters
Speaking of enrollment, if you have not yet registered your children for summer 2020 but plan to do so, please, please, please do not put it off any longer.  Some of our bunks are now completely full.  We truly do not want to turn away loyal campers, so let's avoid that from happening.  You can register your children with the enrollment form mailed to you with your newsletter or you can download the form here on our website under "Island Lake Families" and then "Forms & Mailings" (on the left-hand side of the page).  It only takes a few minutes to fill out the form, we promise! 
To all current and new Island Lake families, we look forward to an amazing summer 2020 with your children.  To all previous or prospective families, feel free to contact us if you have any questions after browsing our website: 914-769-6060 or [email protected]  And last but not least, all of us here at Island Lake wish you, our campers, parents, and staff, a very Happy & Healthy New Year!!!  ILC U THERE!!!