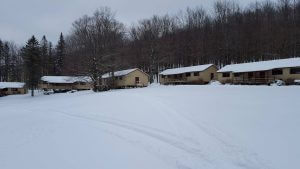 Happy February, Island Lake Families! As we sit here in our winter office looking at the snow outside of our windows, it feels as though summer 2016 was all a distant dream. However, our summer 2017 countdown has already kicked into gear and lucky for us, camp will sneak up on us before we know it. 143 days to go as of February 1st!
We are busy preparing for our big trip that we are offering to all of our oldest campers this upcoming summer. We're excited for our annual 4 day/3 night TEEN TRIP in our 2nd session to Cleveland, Ohio! This amazing trip will be offered to all campers entering 9th grade and higher. Check out more details about this fun-filled experience in the mailing we recently sent out to all who qualify to go. There is an enrollment form for you to fill out and return to us at our winter office. We additionally have info regarding this trip in our monthly newsletters. We'll visit the Rock & Roll Hall of Fame, the Football Hall of Fame, and the most exciting part of this trip, Cedar Point Amusement Park! Cedar Point happens to be one of the largest amusement parks in the world! So,…much,…FUN!!!
A reminder to our summer '16 and '17 families; don't forget to read our monthly newsletters. You can access them here on our website as well as in your postal mailbox at the start of every month. Our newsletters provide important information for parents as well as campers, including enrollment and availability updates.
Speaking of enrollment, if you have not yet registered your child for summer 2017 but plan to do so, please, please, please do not put it off any longer. Some bunks are now completely full. We truly do not want to turn away loyal campers so let's avoid that from happening. You can register your child with the registration form mailed to you with your newsletter or you can download the form here on our website under "Island Lake Families" and then "Forms & Mailings". It only takes a few minutes to fill out the registration form, we promise!
To all current Island Lake families, we look forward to an amazing summer 2017 with your children. To all prospective families, feel free to contact us if you have any questions after browsing our website: 800-869-6083 or 914-769-6060. And last but not least, to one and all,…ILC U THERE!