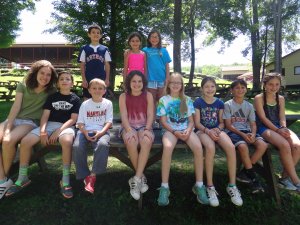 Today we celebrated ILC National Neon Day here at camp so you should see lots of kids sporting their neon clothing in our daily photos on CampMinder.
Today was one of the most beautiful days we've had here at camp all summer. It was truly an absolutely gorgeous day in Starrucca, PA. The 18462 had clear blue skies and warm temps all day long. The morning started out in the upper 60's and then the temps rose to the low to mid 80's. What a perfect summer day to play camp!
Last night's magic show was magnificent! Our prestidigitators performed some jaw dropping hocus pocus that conjured up shocking abracadabra for our audience. Ok, I may have gone a little overboard with magic terms that I googled but hey, it's all about the kids here at Island Lake!
Now that Island Lake is in its 32nd summer, we have had 2nd generation campers for several years. Some of our former campers from our early years, the late 80's to early 90's, have children who are currently campers with us. We love keeping it in the family and offering this wonderful camp experience to the next generation of children. The photo at the top of this blog is a pic of all of our alumni's children who are currently here at ILC. We're missing a camper, a 10th grade girl, because she was playing in a tennis tournament at the time that this photo was taken. Hey, just use your imagination and add 1 more child to all who you see here.
Today was a perfect weather day for sports tournaments. 8th & 9th grade girls lacrosse team went out of camp early this morning. They came back at lunchtime cheering and screaming as they ran into the dining room. Why you ask? Because they won and now they will play in the finals. Yay! We're so proud of our girls. 6th & 7th grade girls softball also left camp for a game this morning. 8th & 9th grade boys went to another camp for a beach volleyball tournament later this afternoon. 8th through 11th grade tennis kids, boys and girls, went to another camp for a full day competition.
Special feature of the day,…WATERFRONT! I had some campers borrow my waterproof camera to snap some shots swimming under water in the pool this afternoon. Sorry some of the boating photos are kind of far away. Short of going for a swim myself, I zoomed in as far as possible from the docks.
Tonight's evening activity is LION KING JR. combined with the DANCE SHOW! These kids have been practicing for over 3 weeks now. We're all very excited to see our little kids and our dancers of all ages perform on stage for the whole camp. We'll have lots of pictures posted for you on CampMinder tomorrow. Until then, when you can see those adorable faces in photos, ILCUTHERE!