Today is our very last Lazy Day for summer 2019 (Violins are playing in the background as tears well up in our eyes.).  Our campers slept in for some much needed rest and then we had a big brunch at 10:30am. We also offered an option 8am breakfast for our early risers.
For Lazy Day, Groups 1 & 2 went to see The Lion King.  They had a relaxing afternoon at a local town watching this movie while enjoying popcorn, candy, and a drink.  Don't worry; we limited their junk food intake so as to not overdo it.  So far the feedback has been very positive about the movie.  The kids say they really enjoyed it.
Groups 3 & 4 went to the bowling alley in Binghamton for a fun day of rolling heavy balls down narrow lanes to knock down pins.  😉  Our older kids also had fun playing laser tag, bumper cars, a flying ride that no one seems to be able to describe well to me, and the kids had snack food galore.
Today we woke up to cool temps and cloudy skies but it quickly changed to warm temps and mostly sunny skies once again.  We were lucky that the rain missed us yesterday but not as lucky late in the day. While the younger groups headed back to camp, a rainstorm came through.
While I was away in Boston our 6th grade girls tennis team played out of camp and came in 2nd place overall.  Below is a photo that was taken that day at the match.  How cute are our campers?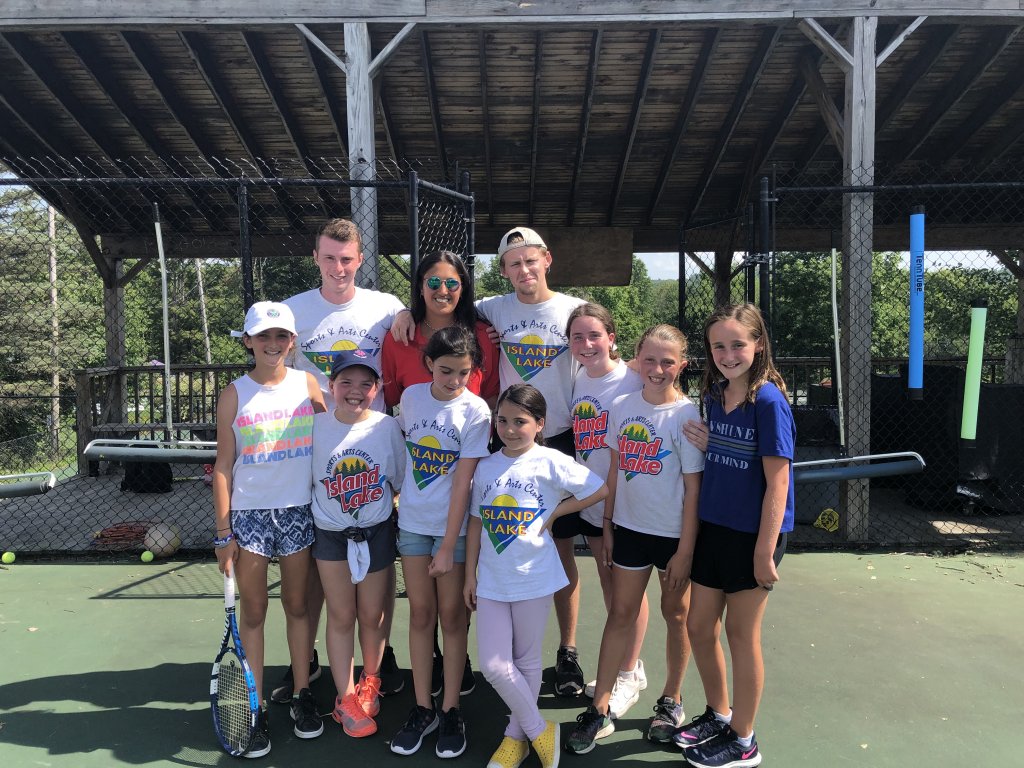 Tonight for dinner we will have a cook-in instead of a cook-out due to the rain.  We'll still serve hamburgers, veggie burgers, and hot dogs along with all of the trimmings.  We'll also serve a delectable baked dessert and watermelon to top it all off.
Tonight's evening activity is GROUPS!  Many of these activities may change if the rain continues but as of now, here's how it stands.  GIRLS: Group 1- Pizza-Making Party. They'll break into the bistro and make individual pizzas;  Group 2- Pool Party (don't ya love how we have so many "parties" here at camp?);  Group 3 & 4- Messy Twister (they got rained out last time so hopefully they'll be on for tonight.  It makes for great photos that I hope to blog tomorrow.):  And on the BOYS side:  Group 1 & 2- a mystery!  They hadn't decided as of this morning and they're still figuring it out, weather pending; Groups 3 & 4- Campfire.  I'll update you tomorrow if these activities change.
Because today is Lazy Day, there's no special feature slide show.  I'll make it all up to you tomorrow when we resume our majors/minors once again.  We also have some surprises in store for our campers that I'll be able to share with you tomorrow.  (Spooky evil laugh inserted here!)  Until then, ILCUTHERE!