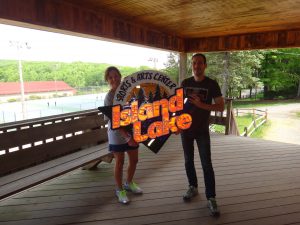 We're home! We're so excited to tell you that we're finally back home at Island Lake and it feels wonderful to be here! All of our pre-camp staff have arrived and are already working hard to make camp look beautiful for summer. All of us at ILC are so incredibly pumped for a fantastic summer 2016. The only thing missing,…our campers!
We know our parents are busy preparing their kids for ILC this summer so just a bunch of reminders. For those of you with outstanding balances or with forms not yet returned, please send everything directly to the camp address (Island Lake Camp, 50 Island Lake Road, Starrucca, PA  18462).
The office is now open Monday through Saturday from 8:30am-5:00pm with a lunch break from 12:00-12:45pm. Once camp begins the office will be open daily from 9am-9pm.
All Medical Forms must be filled out completely by parents and physicians and then mailed to us here at camp if you haven't already done so. We must have an updated Medical Form for every child prior to his/her arrival here at camp.
Profile Forms are helpful to our staff if there's anything specific you'd like us to know about your child ahead of time. If there are specific activities you'd like us to encourage then you must fill out this form ASAP via your CampMinder account. We must have pertinent Profile Form information prior to our campers' arrival. The deadline was May 1st so if you haven't yet filled out this form, please do so immediately.
Our packing list, equipment list, handbooks, policies, and in general, all important summer information can be found right here on our website under "Families" and then "Forms & Mailings." Be sure to print them out and read them all to make sure you're well prepared for summer.
As always, if you have any questions about packing or anything else related to camp, feel free to call us here at camp at 570-798-2550, Monday through Saturday from 9-5. As of today, only 26 more days until camp begins! ILC U HERE!!!